BEST BRUNCH SPOTS IN CARMEL-BY-THE-SEA
One of the best parts of any weekend getaway or vacation starts with a blissful brunch. Here in Carmel, there's no shortage of great restaurants and cafes to start your day. On our classic food walking tour, we love pointing out not only where to get the best food, but the stories about the establishments and the people behind the scenes.
Best Places for Brunch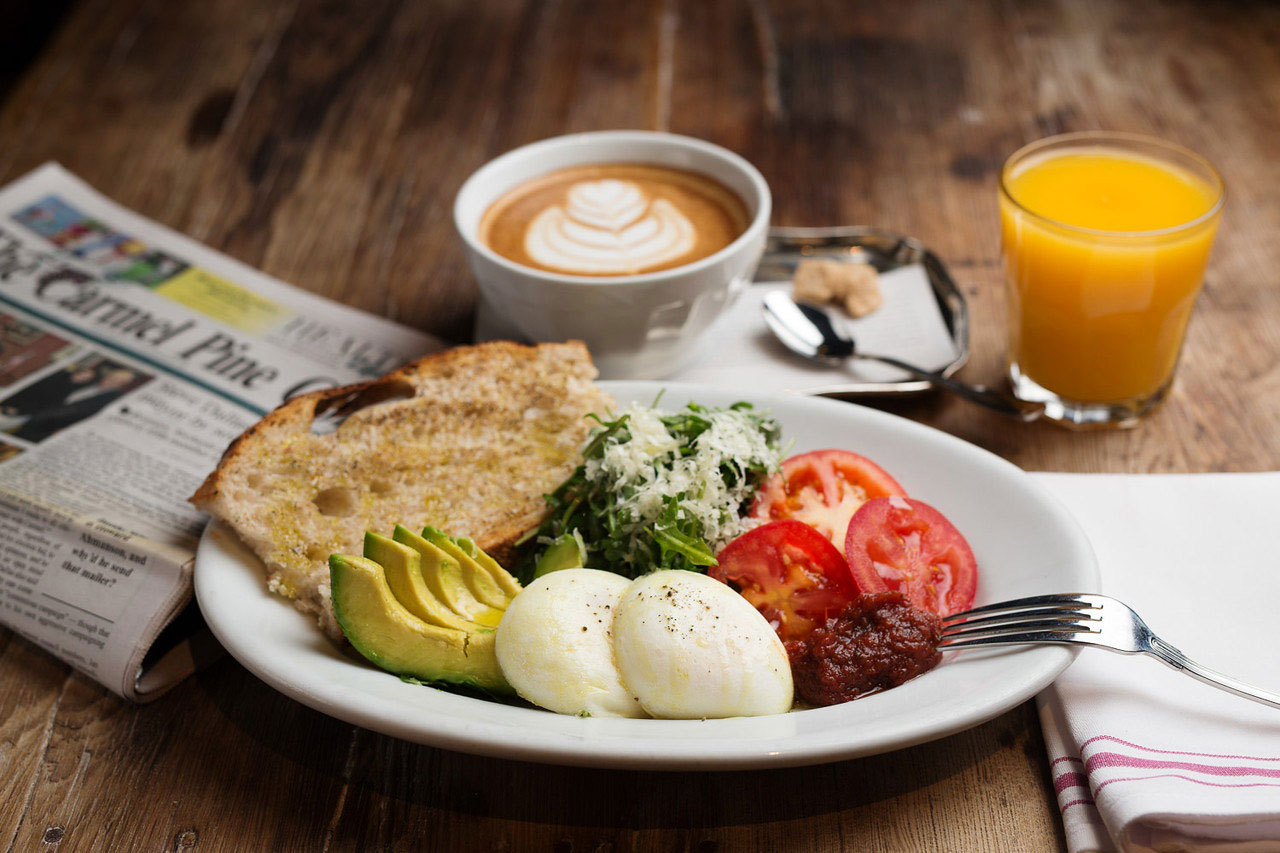 Courtesy of La Bicyclette
La Bicyclette
Nestled in a European-style courtyard on Dolores Street, La Bicyclette offers a delightful brunch experience with a touch of French elegance. Their menu features rustic and seasonal dishes made with locally sourced ingredients.
Indulge in their heavenly baked goods, such as croissants or pain au chocolat, or opt for savory delights like the smoked salmon eggs benedict. Pair your meal with a refreshing mimosa or a perfectly brewed coffee for the complete experience.
Carmel Belle
For those seeking a farm-to-table brunch experience, Carmel Belle on Ocean Avenue is a top choice. With a commitment to using locally sourced and organic ingredients, this cozy café offers a menu featuring fresh and healthy dishes.
From their avocado toast with poached eggs to their mouthwatering breakfast burrito, each item is crafted with care and flavor. You can always grab homemade pastries and refreshing smoothies to go if you're short on time.
Village Corner California Bistro
Located on Dolores Street since 1948, Village Corner California Bistro — simply known as Village Corner around here —combines a relaxed ambiance with delicious brunch options. Their extensive menu caters to diverse tastes— and dietary needs such as vegan, vegetarian, and gluten free — with offerings ranging from classic breakfast plates to creative omelets and indulgent pancakes.
Whether you choose the California Benedict or the hearty corned beef hash, you'll leave satisfied and ready to explore the charming streets of Carmel-by-the-Sea.
Carmel Bakery
Carmel Bakery's charm lies in its simplicity and quality. Take a moment to savor your brunch while soaking up the small-town atmosphere and planning the rest of your day in Carmel-by-the-Sea.
Indulge in their mouthwatering pastries, including flaky croissants, delectable danishes, and irresistible cinnamon rolls. Pair your pastry with a cup of their freshly brewed coffee or a specialty latte. For a heartier option, their breakfast sandwiches and bagels are equally satisfying.
Carmel Coffee House
Carmel Coffee House is a hidden gem that captures the essence of a perfect coffee experience here in Carmel. You'll find plenty of dogs hanging out in front, hoping for a pastry to drop as their owners sip on their freshly poured coffees.
Whether you're a coffee aficionado or simply seeking a cozy spot to relax, Carmel Coffee House offers an unforgettable haven for all.
The Stationaery
From its cozy ambiance to its delectable menu, this hidden gem has become a favorite spot for locals and visitors alike. The menu at The Stationaery showcases a range of flavorful and innovative dishes.
Whether you're craving a savory breakfast burrito, a fluffy stack of pancakes, or a mouthwatering avocado toast, their culinary creations are sure to please even the most discerning taste buds. That's because their dishes are created with only the freshest seasonal ingredients from farms and ranches across Monterey and Santa Cruz counties.
Each dish is thoughtfully crafted, using fresh and locally sourced ingredients, ensuring a burst of flavor in every bite. Plus, you can always sign up to be part of their Brunch Club for exclusive deals and discounts.
Join Us on Tour for More Great Food
For those who want to learn more about all the great food options, come join us on a food walking tour around the village!