RECIPE – BLUEBERRY MINT JAM
Award-winning food preservationist Jordan Champagne of Happy Girl Kitchen in Pacific Grove wants you to take jam making "to the next level" by experimenting with new flavor combinations. To see what she means, read her article "Add Some Flavor to Your Jams" in the summer issue of Edible Monterey Bay. Click here to read more… Happy Girl Kitchen offers jam making and pickling workshops throughout the year at the shop in Pacific Grove. The next one "Amazing Pickles, Cucumbers and Dilly Beans" is on July 25.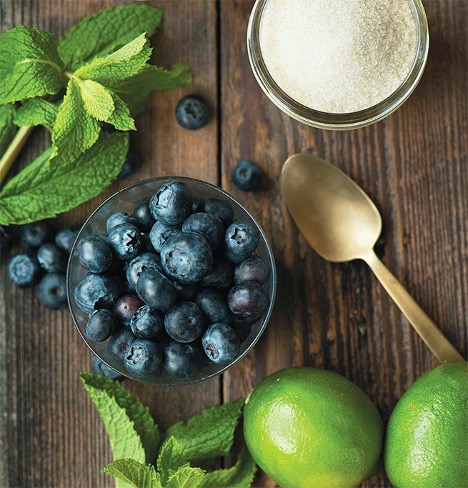 Jordan Champagne will also be demonstrating how to make three different types of pickles this week at the Monterey Peninsula College Farmers' Market on Friday, July 8 at 11am. And at the Cabrillo College Farmers' Market in Aptos on Saturday, July 9 at 10am. Both demos are free!
Blueberry Mint Jam 
| INGREDIENTS |
4 pints blueberries
1/4 cup lemon or lime juice
1½ cups organic sugar
1/3 cup fresh mint leaves, finely chopped
1/4 cup lime zest
| DIRECTIONS |
Wash, dry and place your blueberries in the pot you will be cooking them in. Cover the blueberries with lemon or lime juice and then with sugar. Even though blueberries have a tough outer skin, I still let them macerate overnight with the juice and sugar. This can help decrease the cooking time the next day. If you do not have the time to wait, then you can skip this step with blueberries.
The next day you can begin to cook your jam on a medium to high heat. The contents should boil the entire time. Add lime zest 5 minutes into cooking and continue to boil. Boil contents until gelling point is reached (10–15 minutes). Add mint leaves just at the end. Fill jars and process in a hot water bath canner.
Yield: 12 4-ounce jars
Reprinted from Edible Monterey Bay