DISCOVER CARMEL MISSION
If you're looking for an interesting way to spend an afternoon in Carmel, California, stop by and visit the Mission San Carlos Borroméo del río Carmelo, also known as Carmel Mission. Built in 1771, the Mission is a perfect combination of spiritual beauty and historical legacy. You're bound to enjoy the awe-inspiring architecture of the Basilica Church which is the focal point of the Mission, and also home to a unique collection of Spanish Colonial Liturgical Art and Artifacts. The Mission also boasts five museums, each with its own charm and historical and cultural flavor.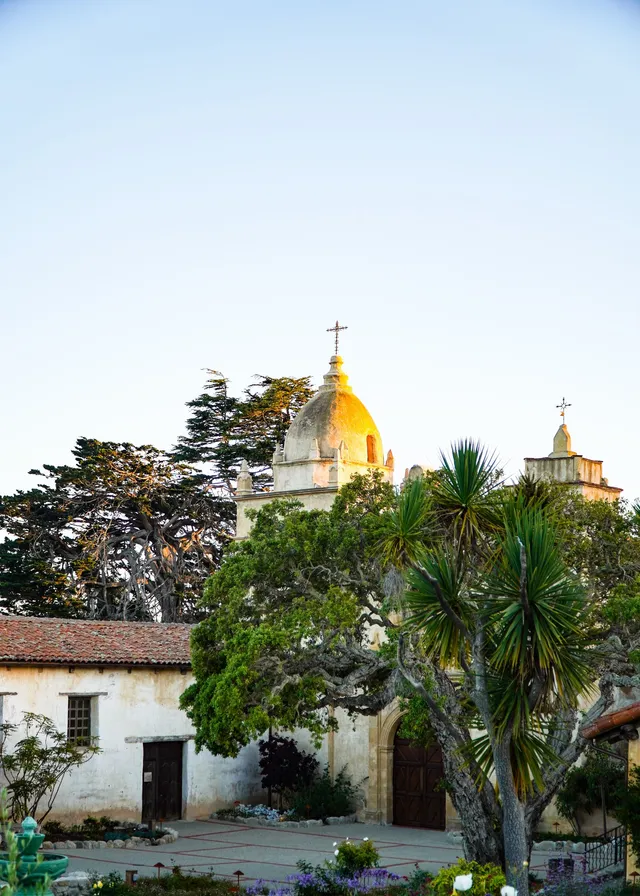 Harry Downie Museum
In the Basilica's forecourt stands the Harry Downie Museum. Here you will find artifacts and displays which reveal the fascinating story of the Mission's restoration and the role that curator Harry Downie played in it.
At the rear of the Basilica, you will find the Munrás Family Heritage Museum. Take a trip back in time with the displays of the time-honored keepsakes that once belonged to five generations of the Munrás-Manzanelli family. This prominent family's treasures are arranged in themed collections including: Lady's, Day, Child's Play and Town Life and Ranch Life.
Nestled next to the Basilica, is the Jo Mora Chapel Gallery, home to the exquisite marble and bronze Serra Memorial Cenotaph, which was created by Jo Mora in 1924.The gallery also has visiting art exhibits, which change every few months.
At the Mission's exit stands the Old Convento Museum which is dedicated to Blessed Fray Junipero Serra, founder of the California Mission Chain. The oldest portions of the Old Convento date back to the mid-eighteenth century. This museum is dedicated to the
founder of the California Mission Chain, Blessed Fray Junipero Serra. The Father lived at the mission and made it the headquarters of the chain of Missions. Here you can see his original bedroom, which is now home to California's first library dating back to 1770. Most of the other rooms have been restored to their original state and function.
When you've explored the Mission, Carmel also has another delight in store, and it's right next door. This building is California's oldest residential building and it dates back to 1774. Owned by Sir Richard Menn, the house has interesting architecture and stunning gardens.
Carmel, California offers a number of walking tours and attractions suitable for all the family. You're sure to have an interesting and informative day out, whichever one you choose.