THE ALLURE OF AL FRESCO DINING
What is it about outdoor dining that feels so irresistible and relaxing? Maybe it's our adult version of the backyard campout where stories, s'mores, and laughter could be shared with friends without using our indoor voices. Al fresco dining combines the appeal of the unfettered picnic with the civility of chairs, silverware, and glass stemware, while still celebrating our natural surroundings.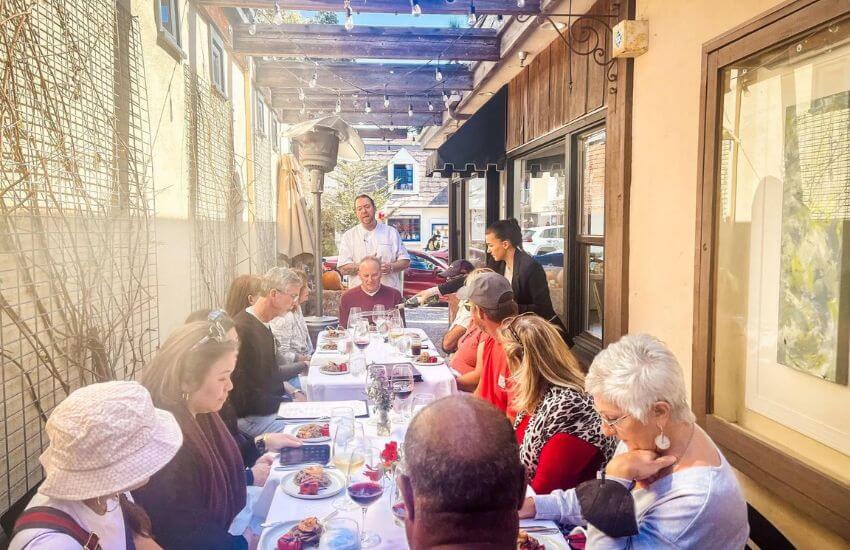 For a one-square-mile city, the abundance and variety of Carmel's outdoor dining options is staggering! In fact, our Classic Food Tour alone includes stops at three restaurants with gorgeous outdoor areas, each distinctly different. Our stroll through town reveals many sidewalk, courtyard, terrace and rooftop dining spots, and many more are hidden from view.
What's more, Carmel enjoys year-round outdoor dining weather, save for a fleeting rainy season. And most outdoor venues include heating lamps to ensure comfort even when the ocean breeze or coastal fog nips at your nose.
Such is the case at the restaurant at Mission Ranch, which overlooks a picture-perfect vibrant green meadow and features an ocean view. Sipping a sunset glass of wine to the music of crashing waves, singing birds and pond frogs, and the occasional soft bleats of the grazing sheep, while inhaling the scent of eucalyptus trees is its own form of meditation.
On Anton & Michel's outdoor patio tucked away in a romantic courtyard, flowers, foliage and several fountains set the stage for a spectacular offering – flambé desserts, and entire meals, expertly prepared tableside with flair.
Casanova Restaurant offers its unique take on al fresco dining. In addition to its rustic courtyard and covered front porch – where straw-seat chairs and distressed wooden tables evoke old world Italy – Casanova also brings the outdoors into one of its dining rooms. There, skylights part to make the most of natural light and fresh air, and to accommodate a large tree that grows right through the roof, and is flanked by two dining tables.
There are too many memorable and scenic settings for al fresco dining in Carmel, and on the Peninsula, to list here. For more options, visit the Carmel Chamber of Commerce or the Monterey County Convention & Visitors Bureau. Or, take one of our tours and ask your knowledgeable, friendly guide to share her insights! Taking the tour early in your stay will give you plenty of ideas … for this visit and those to come. Bon Apetit!