TRAVELING WITH YOUR DOG
Carmel-by-the-Sea is extremely dog-friendly, and a great place to vacation with your canine companion. Dogs are welcome to join their people at many restaurants, shops (like Diggidy Dog), walking trails, and even off-leash on the white sands of Carmel Beach.
But, even here, you'll find yourself participating in human-only activities. Fret not. With a little planning, Fido – or Fifi, or Fluffy, or Snoopy – will be plenty entertained.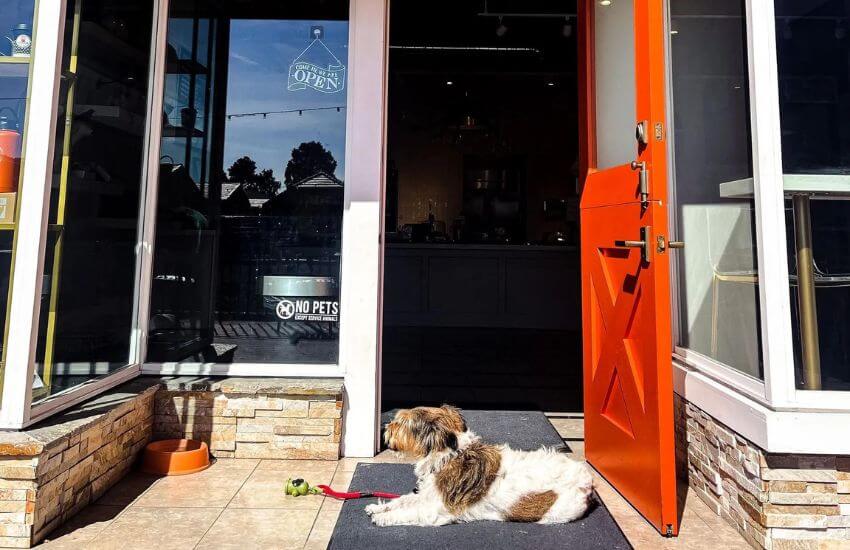 While dogs aren't able to join you on our food tours, several of our tasting partners and favorites listed in our Neighborhood Guide (which you'll receive on your tour, and which is chock full of helpful tips and valuable coupons) do have dog-friendly patios you may want to visit. If you're staying in one of the local dog-friendly hotels, ask your concierge for a list of dog-sitters and dog-walkers. They'll be able to recommend daycare-style facilities and private dog-sitters.
One oft-referred private pet-sitter is Patricia Royce, who offers pickup and delivery, and cares for both local and visiting pooches on her one-acre facility, where dogs can run and play in the "supersized" yard and sunbathe on a large deck. The Point Lobos view may be lost on them, but the lavish lawn won't be, and they'll enjoy hobnobbing with the others – including regulars like Clint's pups; yes, that Clint. Be sure to reserve in advance, as Patricia's place fills up quickly. Visit Carmel Dogcare or call (831) 250-5275 for reservations.
And, for an extra special souvenir, talk to Patricia about her commissioned dog portraits. One of her paintings, "Mo's Pack," was purchased by local Dennis LeVett and graces the hallway off Terry's Lounge at the very dog-friendly Cypress Inn he co-owns with animal advocate Doris Day. Yes, that Doris Day.
Fun-To-Know:
Carmel-by-the-Sea was named one of Sunset Magazine's Top 21 Dog Friendly Vacations.
Click here for Victoria Stilwell's Positively Stress-Free Travel with Pets (video).
To learn more about the Doris Day Animal Foundation: http://www.dorisdayanimalfoundation.org/